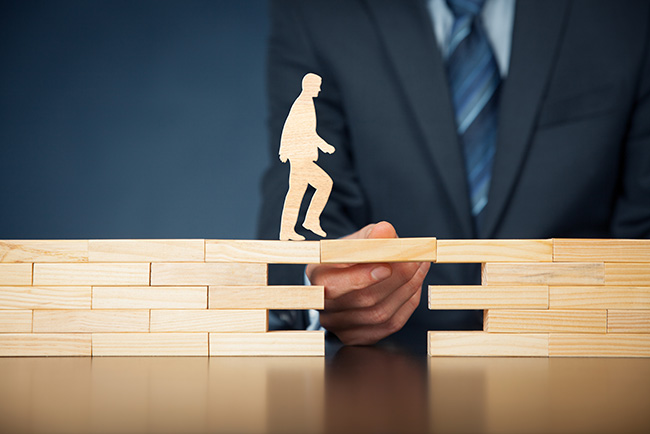 How to overcome the overwhelming feelings of divorce
If you're as old as I am, you can remember well the 1991 movie, 'What about Bob?'
Psychologist Leo Marvin, played by Richard Dreyfuss, gave the perfect advice to client Bob, played by Bill Murray.  "Baby steps!"
The same can be said with divorce.  If we look at the big picture and see the mountain before us, one can get stuck in "the overwhelm."  Similar to the old joke, "How do you eat an elephant?  One bite at a time!"  If we're going to scale the mountain, it's best we spend time at base camp gathering our supplies and preparing for the journey.
This is where a divorce coach comes in…
Generally, in coaching it is said, "Trust yourself, trust your coach, and trust the process."
It is no different when working with a divorce coach, the common theme:   TRUST!  However, when trust has been broken in a significant relationship, it's difficult to trust anyone.
Yet, in order to move through the divorce process as efficiently as possible, it is best to trust professionals along the way; but which professional, and for what?
When examining the framework of divorce, there are three areas of concern:
The business of divorce
The numerous changes
Our emotions
Through the business of divorce one often needs legal representation, such as a Collaborative divorce lawyer, to work through a separation agreement.  Also, in order to fairly divide assets, a Collaborative financial neutral or valuator is needed at times, but where does the divorce coach fit in?
Divorce coaches help you sort out your emotions
If we were all left-brained without emotion, we could easily approach the division of assets as a mere math equation.  However, with all the changes that a client is about to embark on, emotions are triggered which can lead to overwhelm.  It is here, in the underworld that a coach often spends time.
Our emotions are neither good nor bad but get triggered when our core values are challenged.   It is from these values that we make our decisions for life.   Like the north star, our core values serve us as a guide.  However, we are not always conscious of when they are challenged, other than when they trigger some type of emotion; such as sadness, resentment or anger.
So, until one can examine those emotions and understand the why's, it's difficult to engage the brain to make cognitive decisions and move forward.
We call this aspect 'process coaching.' This is where the coach gives the client permission to stay in the space of that emotion until they can find the words to describe the feeling and begin to understand what value is being challenged.
As an example, it is not as easy as saying to the client, "just sell the house."   For to that parent, this house is not a mere shelter, but a home where children were reared and taught and passed on many family traditions and values.  Therefore time is spent exploring the value of a home, and the possibility of creating it again somewhere else. What would that look like?  What is important?  What is needed for the new family in moving forward?
It is only after time exploring the first step, the value, that a person can safely let go of what was and begin to accept the need to move forward.
A coach helps the client understand what they are letting go of, what they can bring forward with them, and how to begin to do that.  Grief has many sides…but often like the underside of the iceberg, it is much bigger than it initially presents.
Again, how does one overcome "the overwhelm"?
Working with a Collaborative Divorce Coach not only helps to address the emotion but also to break down all the components of change.
Other than in preschool, there is no other time in one's life that so much change takes place in such a short period of time.
For example, there is often a change in housing, location, friends, community, family, finances and parenting, to name a few.
The old adage holds true:  "Change is inevitable, growth is optional"
A divorce coach helps a client prepare for the anticipated changes, addressing the issues and options, in the hopes that the client not fear change, but embrace it as an opportunity for growth and personal development.
All this takes time…there is no quick fix.  It is only after a series of conversations between the client and the divorce coach that a client can move through their own resistance, and embrace moving forward.
Baby steps!